The WA PESA & Richard Howe independent Biostratigrapher have presented a donation of $1,250 to the UWA Geoscience Foundation, the donation was part of the proceedings from the Biostratigraphy workshop that was conducted on the 14 of July in Perth.
The workshop was organized by the PESA WA branch; four instructors were presenting that day. Adam Charles and Amely Allgöwer from MG Paleao, Richard Howe (Independent Biostratigrapher) and Daniel Peyrot assistant professor from UWA.
The WA Branch would like to thank those that attended the workshop and the evening talk. Without your support we could not achieved the objectives to provide cost effective, good quality training which everyone at PESA member could easily to attend. The rest of the proceedings will be used to organized a series of cost effective technical talks during Q3 and Q4.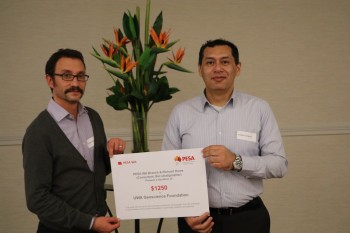 Andres Gongora WA President