PESA SA/NT April Technical Luncheon
Contourites, debrites and other seismic oddballites
When: Thursday 26th April, 12pm for 12:30
Where: Club Braggs at The Public Schools Club, 207 East Terrace, Adelaide SA 5000
Speaker:
Rob Kirk, Rob Kirk Consultants
This talk will look at the seismic facies of contourites and how they may differ from turbidites, along with other deep water units such as debrites, HRDZs, pockmarks and things that are "different". Are they "good" or "bad" for us?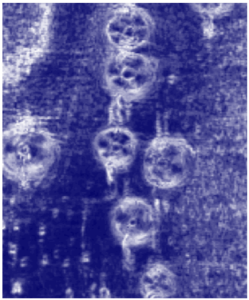 Above: "Ripples"; Below: "Pockmarks"
Rob Kirk is a consultant geophysicist, previously with Woodside, BHP and Occidental, with some 40 years exploration experience whose interest is in seismic and sequence stratigraphy.
In addition to lunch, Club Bragg's great range of drinks will be on offer:
Coopers – pale ale, sparkling ale, stout, mid strength and light.
Goodiesons – brown ale, pilsner, malboc, wheat, stout, red ale, pale ale
West End – Draught
Kersbrook Hills – Cider
House wine: GMH Shiraz and 90 mile Sav Blanc
Please note that bookings will close at 5pm on Monday 23rd April