PESA SA/NT May Technical Luncheon
Cooper Basin Deep Coal – the New Unconventional Paradigm: Deepest Producing Coals in Australia
When: Thursday 24th May, 12pm for 12:30
Where: Club Braggs at The Public Schools Club, 207 East Terrace, Adelaide SA 5000
Speaker:
Bronwyn Camac, Santos Ltd
Up to four years of gas production from Permian-aged coals, in the SA Cooper Basin has exposed them as a potentially sustainable unconventional gas resource. The success of this play is a result of many years of research, laboratory tests and field trials to de-risk the play, following a well-defined road-map.
Since 2012, production variability has been tested in over 50 wells across the SA Cooper Basin. As add-on frac stages in conventional gas development wells, coal targets are regularly yielding incremental reserve. This is providing an uplift in production and the opportunity to access a new tranche of gas. Production from the coal reservoirs is now accepted as "base-business" for the Cooper Basin Joint Venture partners.
The key to progressing the play from its earliest inception to a productive reservoir, lies in a focused approach to de-risking each economic barrier. These risk factors include frac containment, formation water production, gas composition, permeability, deliverability, completion design and cost.
Next steps are to prove economic viability of deep coal as a dedicated, primary development. Projects targeting primarily deep coal, planned for 2018 – 2019, will test for commercial flow rates in existing productive fields.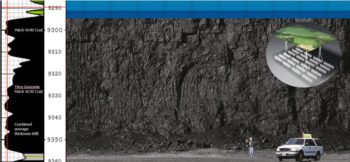 Bronwyn Camac has over 25 years' experience in the oil and gas industry as a geologist in both conventional and unconventional resources. Bronwyn has worked for Comalco Exploration Wiltshire Geological Services, Origin Energy, Beach Energy and now Santos Ltd.
Bronwyn gained her PhD in Engineering Science in 2010, which focussed on using numerical modelling methods to predict fractured rock, and maintains interest in this area supervising various post-graduate projects and application of these techniques in unconventional resources.
Currently, Bronwyn is the Manager, Cooper Basin Unconventional Growth, responsible for the commercialisation of the Permian Source Rock (Deep Coal) Play.
In addition to lunch, Club Bragg's great range of drinks will be on offer:
Coopers – pale ale, sparkling ale, stout, mid strength and light.
Goodiesons – brown ale, pilsner, malboc, wheat, stout, red ale, pale ale
West End – Draught
Kersbrook Hills – Cider
House wine: GMH Shiraz and 90 mile Sav Blanc
Please note that bookings will close at 5pm on Monday 21st May